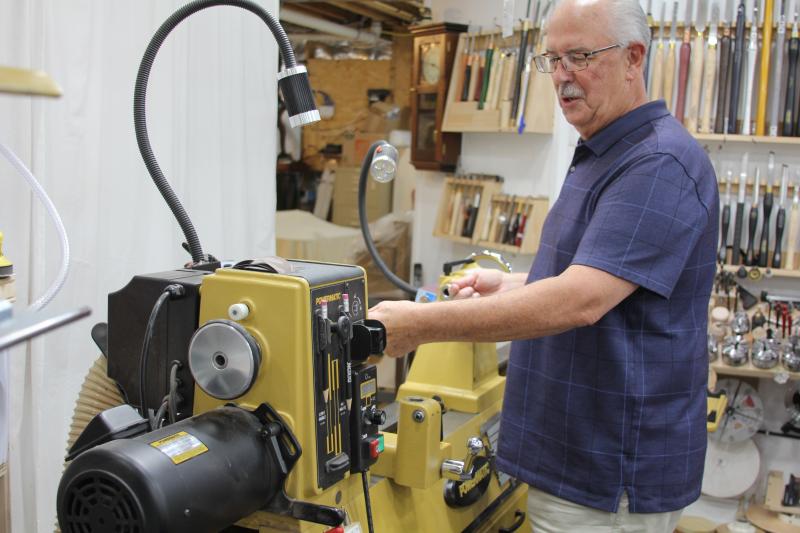 Lewes carpenter turns out creations
Jim Whattam knows a good turn when he sees one.
Four years ago, the retired lawyer took up woodturning as a hobby, and he's been creating stunning creations ever since. Whattam said he is self-taught with lots of help from YouTube.
One of his latest pieces, the Port du Refuge lighthouse, received congratulations from theDelaware River and Bay Lighthouse Foundation, and three of his sculptures featured at this year's Delaware State Fair all won blue ribbons. One was a replica of the Delaware Breakwater East End lighthouse.
"It's a completely different type of woodworking," Whattam said. "You can take something square, put it on a lathe, and turn it into something round."
The Lewes resident lights up as he stands in his studio, a 1,800 square foot basement section that is a masterpiece in itself with tools and machinery covering just about every inch. "It's exploded since we moved here," he said.
He and his wife, Deborah, retired to Lewes in 2012 after years of vacationing along the coast from their Baltimore-area home – not far from where the 72-year-old grew up. After graduating from high school, he stayed in the area to attend Towson University for his undergraduate degree. Then it was at the University of Maryland Law School before embarking on a career in employment law.
Woodworking has been part of his life since he was 9 years old. His father, a master carpenter, taught him the art of flat carpentry, he said, and over the years he has built many entertainment centers and kitchen cabinets for friends – just for fun , never taking a penny.
"I took him to a noticeably different level than my dad," Whattam said with a chuckle and an irrepressible jovial spirit that can put anyone at ease.
Whattam shows how he can reshape a block of wood into a bowl by locking it into the lathe. A huge selection of handheld tools displayed along a nearby wall help her create her special creations.
"It's been a lot of fun over the years I've done it. I really appreciate it," he said.
He proudly displays his work under a sign that reads "Stuff I've done…Really." The shelves below are full of Christmas decorations, spinning tops, bowls, vases, Japanese puzzle boxes and many pens he created from acrylic blocks. He said his four grandchildren loved the selection of Thor hammers he made.
When Whattam made the lighthouses, he used a process called segmented woodturning – a form of woodturning that creates striking vases and bowls with vivid patterns in varying colors.
He takes small pieces of wood and glues them together in a ring, then places these rings on top of each other in descending or ascending order to make the object wider or narrower. Everything is smoothed around.
"The big lighthouse was made that way. It's 600 pieces of wood that have been made this way," he said. "It took a while, about five weeks of work on and off."
Photographs from a recent tour of the lighthouse helped him with the number of windows, fence posts and other details that make the lighthouse unique.
It was too late to enter the Harbor of Refuge Lighthouse at the Delaware State Fair this year, but the piece earned it many local accolades.
"With great cooperation from the foundation, they were extremely helpful throughout the process to ensure I had the access I needed to do it right," Whattam said.
He doesn't know what he'll do next, but judging by his display, whatever he does will be no less impressive,
"I just do fun things these days. I don't do anything that I don't find fun," he said. "It really can be a hobby that anyone can enjoy."